BSPS Programs
Co-op Charting
The Cooperative Charting Program of the United States Power Squadrons®(USPS) was conducted in close coordination with the Marine Chart Division, National Ocean Service, National Oceanic and Atmospheric Administration and the U.S. Department of Commerce. The Program is a major public service of USPS. Under it, members supply information to the Marine Chart Division.
As the Federal Government continues to cut budgets, it becomes ever more important for the USPS to re-emphasize its participation in Cooperative Charting. USPS provides updated and current information leading to corrections to nautical charts, small craft charts, the United States Coast Guard (USCG) Light Lists and the Coast Pilot publications. Without these USPS observations and reports, many hazards would go undetected until tragedy strikes through a nautical mishap.
Recognizing this increased need, an aggressive 2014 Co-op Charting program was launched by the Bellingham Sail and Power Squadron (BSPS) The program began in April with projects staffed by BSPS teams. The projects included the Blaine and Bellingham Small Craft Facilities as identified in the Small Craft Folio for this area and a large portion of the area covered by Chart 18424.
Cooperative Charting Programs undertaken for the project areas include:
Nautical Chart Corrections - Observing and reporting differences between charted information and what is currently observable.
Small Craft Facilities - Observing and reporting the characteristics of marinas, boat yards, and other marine facilities that service small craft.
Range Line Surveys - Similar to Depth Surveys except measurements are position reading along tracks identified by Range Markers.
Coast Pilot Revisions - Examining those sections of the Coast Pilot covering our area and determine where changes should be made to reflect current reality.
Aids to Navigation Inspections - This involves cruising around our favorite areas and observing the buoys and other markers. Items to check are proper functioning of light and sound characteristic legibility of identifying marks and that the ATOMs are in proper position.
Completion of the project lead to updating of nautical information for our boating area.
Vessel Safety Check
A Vessel Safety Check is a courtesy examination of your boat (vessel) to verify the presence and condition of certain Safety Equipment required by State and the Federal regulations. The Vessel Examiner is a trained specialist and is a member of the United States Power Squadrons or the US Coast Guard Auxiliary. They will also make recommendations and discuss certain safety issues that will make you a safer boater.
This is not boarding or a law enforcement issue. No citations will be given as a result of this encounter. We will supply you with a copy of our evaluation so that you may follow some of the suggestions given. Vessels that pass will be able to display our distinctive VSC decal.Look for us on your dock during special events!
BSPS Rendezvous Planning Guide (March 2019)
Created by: Joan Olson, Sue Bussinger, Penny Dalgliesh & Leslie Guelker-Cone.
OVERVIEW:
Squadron Rendezvous are a great way to increase your knowledge, experience, and social opportunities through shared boating adventures. These events are planned by volunteer members and take place April through September/October each year. This guide was compiled by past cruise captains to capture learning from past years' events. The goal is to make each rendezvous a unique and approachable experience by giving cruise captains the flexibility to choose from a menu of planning tools to suit their time and inclinations. You may wish to volunteer as a single cruise captain or with one or more co-captains. Consider teaming up with someone who has planned a rendezvous previously. The primary goal is for cruise captains and members to HAVE FUN!
Below are planning elements; some are basic to every event, some are options so you may tailor the rendezvous to your liking. Once you volunteer, you will want to put the basics in motion to facilitate the Communication Committee's ability to distribute "Save-the-Date" publicity.
BASICS:
Pick a location. Keep in mind that a location with a marina facility, dock access, and individual and group activities helps the event flow.
Pick a date. Rendezvous are often weekend events to allow access to all members, beginning on Friday evening and concluding Sunday after breakfast/brunch.
COMMUNICATION FOR PROMOTION:
When you are ready to choose a date for your cruise, go to the BSPS Website's Upcoming Events Page and check that the date is free. There you will see a Save the Date button. Click on it and enter the requested information. When finished, click "send." This information will go to the Communication Committee (CommCom) who will confirm your request, contact the appropriate bridge officer for approval where necessary, and place the date on the Upcoming Events calendar. You should receive an email reply within 3 business days along with the blank forms you will need to fill out as cruise captains for this event. These include:

Please fill out and submit the Event Form as soon as possible to communication@boatingisfun.org, and no later than 1 month before your planned cruise so the CommCom has adequate time to publicize the event. Please provide as much detail as possible in regard to meals, activities, and events in order to interest potential attendees and to let them know what to expect during this cruise. A successful event is dependent on this step.
BSPS Event Form SAMPLE
BUDGET:
Use an approximate budget of $300 as a guideline for planning. If you have larger-than-normal attendance, contact the Administrative Officer ao@boatingisfun.org who will request ExCom approval for additional funds. This budget should cover food, tableware (if needed), prizes, rentals (party barge, barbecues, etc.)
Some activity expense fees, outside of the budget stated above, may be collected from attendees participating in optional activities: i.e. group transportation or tours, or location-specific activities or events.
Keep all receipts to be submitted for reimbursement to BSPS Treasurer.
Expense Reimbursement Form SAMPLE
COMMUNICATION WITH SITE:
Contact the Harbormaster if there is one, or refer to information about the location on the internet. Consider visiting the site if you are unfamiliar with site details. Tell the Harbormaster the estimated number of boats (10-15 boats is a good estimate). Tell the Harbormaster that members will call individually to secure slip assignments and identify themselves as BSPS member boats. (As members email you to let you know they are planning to attend, remind them that they need to call to secure their own slip assignments.)
Ask the Harbormaster for information regarding the site; i.e.: is there dock space, a floating barge, adjacent property/facilities for the group to gather; how many people can the space hold; is there covered space or a tent in case of inclement weather; are there cooking facilities, picnic tables, tables/chairs, activities, other amenities on or near the site (fuel, cafe/restaurant, hotel/cabins, electricity (available amps), water, camping sites, firepits and firewood, etc.); is there a charge for facility amenities. Reserve desired amenities, paying out-of-pocket and retaining receipts to submit to treasurer for reimbursement (see above).
Prior to the event, you may want to create a list of attendees noting participant names, boat names, and contact information so that you have that information with you as people arrive on site and during the event.
COMMUNICATION AT EVENT:
Consider arriving early to command the space if the marina/harbormaster or site contact is unable to guarantee reserved space.
Hang BSPS banners (available through Administrative Officer).
As members arrive greet them and distribute a copy of the weekend itinerary to each boat. You may also consider using a white board or sign/poster to post the schedule of events.
Cruise Itinerary SAMPLE
SAMPLE EVENT FORMATS:
Mix and match from the following examples to create a rendezvous that fits your available time and inclinations. Schedules A and B and C reflect increasing levels of activity that might be included in a rendezvous. These are only suggestions. Choose from the suggestions or create your own! See attached sample itineraries but be creative!! Encourage a low-waste event by requesting that members bring their own tableware from their boats. The Administrative Officer (AO) has plastic table linens and other tableware you may use if necessary.
ACTIVITIES:
Activities can be planned or impromptu; however, some planned events are suggested for ice breakers. This is not an exhaustive list. Your creativity is welcome. Remember that planned activities could dovetail as menus: i.e., a favorite boat recipe activity or a chili or chowder cook-off could be dinner.
Selfie scavenger hunt SAMPLE
Wine and port tasting, beer tasting
Cook-offs
Game night - Nautical Pictionary, boat safety games, cards, Dominos, croquet
Firepit
Sing-a-longs
Hikes, runs, walks, water sports
Boat tours
Boat repair demos
Favorite boat recipe, gadget
Knot tying
Docking
Volunteer "expert" for local or boating knowledge talk
Area activities - Farmer's Markets, music events, tours
| | | | | |
| --- | --- | --- | --- | --- |
| Day/Meal | Approx. Time | Option A | Option B | Option C |
| Friday Docktails | 5:00 PM | Bring an appetizer to share, beverage and tableware. Host in a common space or on one or more boats. | Bring an appetizer to share, beverage and tableware. Host in a common space or on one or more boats. | Bring an appetizer to share, beverage and tableware. Host in a common space or on one or more boats. |
| Saturday Breakfast/Brunch | 8:30 AM | On your own for breakfast. | Choose a restaurant nearby or consider arranging transportation. Pay your own way. | Group breakfast in common area with food provided. Refer to suggestions below. Bring your own beverage and tableware. |
| Saturday Lunch | 12:00 PM | On your own for lunch. | On your own for lunch. | On your own for lunch. |
| Saturday Dinner | 5:00 PM | Bring a potluck dish to share, beverage and tableware. Eat in common area or host on several boats. | Choose a restaurant nearby or consider arranging transportation. Pay your own way. | Potluck with host providing main course. Refer to suggestions below. Bring a potluck side dish, beverage and tableware. Eat in common area. |
| Sunday Breakfast followed by departure | 8:30 AM | Repeat Saturday options A, B or C | Repeat Saturday options A, B or C | Repeat Saturday options A, B or C |
BREAKFAST MENU IDEAS: fruit, yogurt, granola, muffins, bagels, juice (Participants bring own hot beverage.)
DINNER MAIN DISH IDEAS: soups/stews/chilis, hamburgers/hotdogs, pasta, sandwich bar, taco bar
POST-EVENT COMMUNICATION: Please submit a cruise report to ao@boatingisfun.org
Cruise Report SAMPLE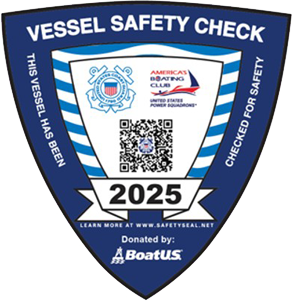 Is your vessel in shipshape condition?
Locate a Vessel Safety Examiner near you for a FREE Saftey Check. or Contact the Vessel Safety Examiners of
the Bellingham Sail and Power Squadron.